Directed by:
Keith Alcorn
Written by:
Gene Grillo
Release date:
February 13, 2004
Running time:
24 minutes
Available on:
iTunes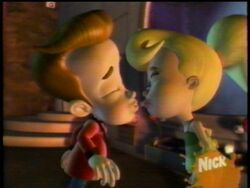 The actual title for this article is Love Potion #976/J.
"Love Potion #976/J" is a half-hour Valentine's Day episode of the animated series The Adventures of Jimmy Neutron: Boy Genius.
Jimmy shows off his latest invention – a love pheromone – to Carl and Sheen. Anyone exposed to it will fall in love with the first person he or she sees. Jimmy thinks his potion is stored safely in the containment chamber, but Carl accidentally opens it – and love is literally in the air, exposing them all! And Cindy Vortex is the first girl Jimmy sees! Will Jimmy be able to reverse the effects of his latest invention, or will love conquer all?